Roofing in Bulwell, Bestwood Village and Old Basford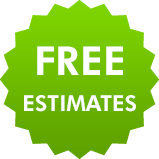 When looking for a roofer in the Bulwell (NG6) area, we're a great choice when you demand exceptional work at a fair price. With over two decades of experience in the business, we have in depth knowledge and skills when it comes to your roof - from constructing and fitting brand new modern roofs to repairing damage to your existing roof, you can trust us at every turn.
Roofers providing a wide range of services in NG6
Whatever your project or problem, we're local roofers who are here to help. If you're in Bestwood Village, Bulwell and Old Basford we can offer services such as:
Roof repairs on slate, felt and slate roofing
Constructing pitched and flat roofs
Replacement roofs and re-roofing for damaged roofs
Velux sky lights for loft and attic conversions
Repairs & fitting of guttering and rooflines
Repairs and maintenance for chimneys
A local roofer providing a free, no obligation quotation
To provide customer satisfaction, we'll provide you with a free quotation on all roof work before we begin, making you fully aware of what any work on your roof will entail and cost.
For fantastic roofing at a great price, make us your new roofer by calling 0115 815 9195.