Guttering and gutter repairs in Nottingham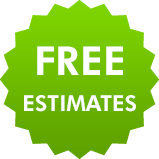 Guttering plays an important part in ensuring the roofline of your home remains watertight. If guttering isn't properly maintained, or is fitted poorly, water can run down the side of your property and cause damage.
We're a Nottingham based, professional team that want to ensure that your gutters are working effectively, so we provide a full range of services, including:
Repair and replace down and fall pipes
Gutter repairs and replacements
Clearing debris from your gutters
Fix the eaves felt and rotten rafter ends
Inspect your fascias and soffits
Call us for a free estimate
As a firm with over twenty years of experience, you'll be fully satisifed with any work we provide, joining the wide and happy customer base that's benefited from honest and efficient workmanship, and great prices.
Quality gutter work by qualified fitters
We'll be delighted to visit your home and assist you with any new guttering, or advise you on any gutter repairs that may need doing, in a finish that would suit the character of your property. In addition, we'll provide a free estimate that let's you know in advance what you'll be paying for.
If you need help with your gutters, speak to us without delay on 0115 815 9195.