Flat roofing in Nottingham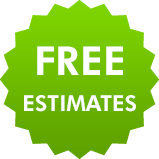 Flat roofs are the most economical roof shape, as there's more headroom and the resulting surface allows plenty of practical use into the bargain.
A well fitted flat roof can offer a smart, stylish look to a property or, depending on the structure of your home, you could create a roof terrace or garden.
We offer an array of flat roofing solutions across Nottingham, including the following:
Designs and installations
Installation of fibreglass, felt or rubber roofs
Repairing damages/worn areas
Maintenance and care
From partial repairs to complete constructions, as dedicated roofers we take pride in all work and can perform to your personal requirements and taste. to give you the roof that you want.
Choose us to get the job done
You can trust in our flat roofers to take care of any project or problem in your home, as we have more than two decades of knowledge, employ skilled and qualified roofers and use only high quality materials when carrying out any roofing job in the Nottingham area.
To discuss all your flat roofing and flat roof repairs, get in touch with us now on 0115 815 9195, wherever you are in Nottingham.